A Comprehensive Solution for Improving Care and Managing Population Health
Scriplogix understands the challenges faced by healthcare organizations as they navigate the realities of population health management. We've developed CareCentra, a complete set of platform, application, and services to help healthcare organizations better understand the risk profile and experiences of their patient population. CareCentra takes a comprehensive approach to improving the overall patient experience in the hospital and beyond by offering analytics solutions that enhance wellness, reduce unnecessary readmissions, increase compliance with medication regimens, and improve patient satisfaction.
CareCentra Solution Suite - Tailored to meet your Needs
CareCentra consists of a series of configurable modules that help healthcare organizations identify efficiencies and opportunities for improving care. The highly flexible, modular design means our solutions can be tailored specifically to meet your needs; you choose the components needed to achieve your goals.  More specifically, the platform addresses the following population health needs:
Risk Stratification: identify clinical and financial risk, and stratify patients based on risk categories so that appropriate services can be directed to each risk category.
Risk Adjustment: document clinical risk that helps organizations risk-adjust their patient population with payers so that they can increase average reimbursement for patients to reflect greater disease burden.
Clinical Performance Assessment: measure and track the clinical performance of providers, sites, and entire organizations to help drive quality metrics (e.g., HEDIS, STARS, and CMS quality metrics).
Population Health Outcomes: measure and track population health outcomes, including hospitalizations, rates of infection, and measures of morbidity and mortality.
Health Engagement Management: identify, engage, match and monitor patients from admission to discharge and beyond to improve patient satisfaction, reduce readmissions and increase medication adherence.
Impact on Healthcare Spend: link population health activity to healthcare expenditure, including total patient spend and sources of spend (e.g., inpatient, outpatient, prescriptions, physician's office, radiology, lab, etc.).
Best Practices: benchmark and assess the effectiveness of medical policies and clinical workflows against peers.
Custom Insights: specialized consultative services to help drive population health goals including incentive comp design for providers, health promotion response modeling, claims analytics, etc.
The Right Technology and Analytical Tools for Population Health
The CareCentra Technology Stack accesses a MapReduce-based Hadoop framework along with proprietary analytical tools, statistical algorithms, data visualization, and search technologies. This agile, scalable platform employs natural language processing (NLP), machine learning, and semantic constructs to mine structured, semi-structured, and unstructured data from multiple source documents and from across and beyond the organization. The transformed content is aggregated into a secure, centralized repository to create rich, longitudinal, patient-centric care profiles for statistical analysis, decision support, and reporting.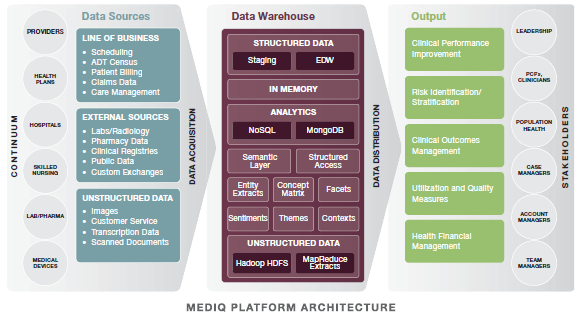 Turning Unstructured Content into Insights
Approximately 80% of stored health information is believed to be unstructured, trapped in free text such as physicians' notes, lab reports, discharge summaries, scanned documents, and e-mail messages. CareCentra Text Analytics has developed a flexible, ontology-driven knowledge extraction framework that can automatically sift through huge volumes of unstructured and semi-structured clinical content from diverse sources and derive concepts, structure, and relationships from it. Features include:
Identification of entities.
Extraction of entities from unstructured, free flowing documents and validating them against a variety of Corpora across domains with ontologies such as SNOMED, ICD-9, ICD-10, CPT-4, RxNorm, and LOINC.
Ontology-based text searching and extraction using one or several tags and/or keywords within a sentence or document to formulate semantic queries.
Deep semantic information extraction – entities, relationships, topics, themes, and features.
Integration of reformatted text with structured data and cohort development.
Smart Metadata extraction that goes beyond bibliographic data.