The Harvard Business School engaged Scriplogix to interview 58 CEOs they identified from around the world as the most innovative leaders in health care. We asked the CEOs to outline the biggest challenges facing their sector in the coming decade. We also sought their views on the skills needed to meet these challenges and the ways in which academia could foster them.
A Call to Action
The CEO interviews reflected significant dissatisfaction with the skills of academically prepared candidates from diverse types of health care management programs. A few highlights:
Innovative processes are more important than innovative products.

The current academic focus on isolated training in finance, ethics, medicine, etc., is less helpful than a holistic curriculum that mirrors real-life situations.

Skills in change management, communication, and team building are essential for innovation.

Breaking down the silos separating the schools that offer expertise in differing aspects of health care management is crucial for collaboration.

A broad-based knowledge of how healthcare works—including financing, organizational structures, technology, and public policy—and how to apply that knowledge are prerequisites for evaluating and implementing innovations.

Management education helps with business problems; health care policy, medical, and scientific education does not focus on managerial issues. Uniting these two camps with shared purpose and common language is a critical step for creating significant change in future health care systems.

Fieldwork and structured mentorships offer lessons the classroom cannot.
We utilized a proprietary Word Cloud data visualization tool to transform hours of unstructured text from the CEO interviews into actionable, quantitative data. Here is a look at some of the key words CEOs used during these interviews.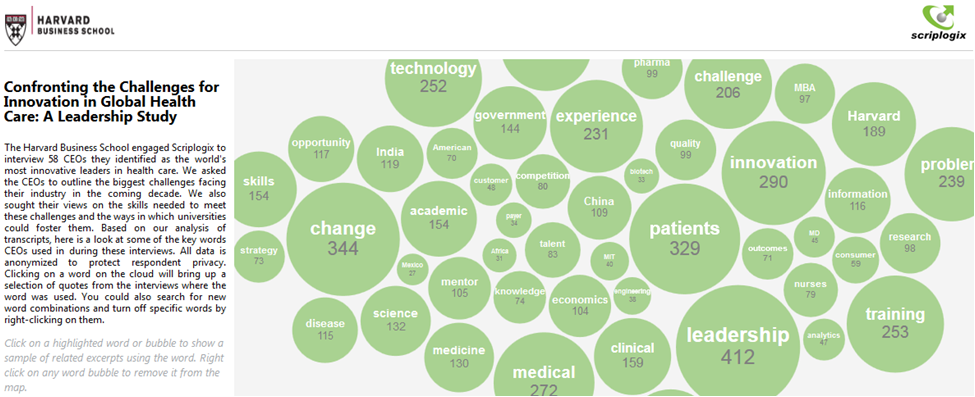 To read highlighted sections of the CEO interviews and test our word cloud tool that aggregrates insights from each interview using key words and tags, please click here.
A PDF verssion of the Harvard White Paper titled "21st-Century Health Care Management Education: Confronting Challenges for Innovation with a Modern Curriculum" based on feedback from the CEO interviews can be downloaded here.
CEOs of FIRMS INTERVIEWED, BY SECTOR & LOCATION
The selection of executives to be interviewed was driven by three goals: first, to represent all the sectors with a stake in health care, including biotech, delivery, diagnostics, health IT, insurance, medical devices, governments, and NGOs or foundations; second, to focus on innovative firms and large employers of the graduates of these programs; and last, to provide a global perspective.
| | | |
| --- | --- | --- |
| Location | Company Name | Sector |
| Argentina | Farmacity | Pharmacy |
| Brazil | Amil Participacoes S.A | Hospital & HMO |
| China | BeiGene | Pharmaceuticals |
| Denmark | Novo Nordisk | Pharmaceuticals |
| France | Institut Curie | Research |
| Germany | Fresenius Management SE | Diagnostics |
| Germany | Siemens Healthcare | Medical Devices |
| Hong Kong | National Kidney Foundation | Non Profit Foundation |
| India | Apollo Hospitals | Hospitals |
| India | Biocon | Pharmaceuticals |
| India | Fortis Healthcare | Hospitals |
| Israel | Israel Ministry of Health | Government |
| Israel | Teva | Pharmaceuticals |
| Italy | Humanitas Mirasole Spa | Hospitals |
| Kenya | AAR Holdings | Insurance |
| Kenya | Aga Khan University Hospital | Hospitals |
| Mexico | IMSS | Government |
| Mexico | Primedic | Low Cost Social Care |
| Mexico | Salud Digna | Low Cost Social Care |
| Nigeria | Anadach Group | Consulting |
| Nigeria | Hygeia HMO | HMO |
| Singapore | Fortis Healthcare | Hospitals |
| South Africa | Discovery Health | Fin Serv. & Wellness |
| South Africa | Discovery Vitality | Fin Serv. & Wellness |
| Switzerland | Helsana | Insurance |
| Switzerland | Novartis | Pharmaceuticals |
| Switzerland | Swiss Health Care System | Government |
| UK | McKinsey & Company | Consulting |
| UK | Nuffield Health | Integrated Care Delivery |
| USA | athenahealth | Health   IT |
| USA | Bain & Company | Consulting |
| USA | Blue Cross Blue Shield – MA | Insurance |
| USA | Cardinal Health | Distrib. & IT |
| USA | Care-Safe | Consulting |
| USA | Carilion Clinic | Hospitals |
| USA | Celgene Corporation | Pharmaceuticals |
| USA | Dorenfest Group | Consulting |
| USA | Geisinger Health System | Integrated Care Delivery |
| USA | Foundation Medicine | Diagnostics |
| USA | Highland Capital Partners | Venture Capital |
| USA | Intermountain HealthCare | Integrated Care Delivery |
| USA | Intuitive Surgical | Medical Devices |
| USA | Iora Health | Integrated Care Delivery |
| USA | Marshfield Clinic | Hospitals |
| USA | Massachusetts General Hospital | Hospitals |
| USA | McKesson Corporation | Distrib. & IT |
| USA | McKinsey & Company | Consulting |
| USA | Long Island Jewish Medical Ctr. | Hospitals |
| USA | OrbiMed | Venture Capital |
| USA | Partners HealthCare | Hospitals |
| USA | Patients Like Me | Information |
| USA | Polaris Venture Partners | Venture Capital |
| USA | Pro Mujer | Low Cost Social Care |
| USA | Quest Diagnostics | Diagnostics |